Powerful Integration Tools for Enterprise Web Applications - Forms, Kiosks, Check-In, and more!

The Convenience of a Web App + The Power of a Native App
Web apps are great. Employees can access them anywhere and use them from everything from inspections and asset management to marketing kiosks and form builders.

On tablets and smartphones, navigating web apps present challenges: pinching and zooming over and over, constantly tapping in the field to get focus, show the on-screen keyboard, etc.

iScanBrowser makes your web app run like a native app: connect peripherals, automate processes, and intuitive navigation. User simply scans RFID badge, barcode, or press scale button, and data is automatically posted to the desired webpage, in the desired field.
Business runs on data. From asset management to HR tasks, companies are using browser-based applications to collect and process data on smartphones and tablets. But data input on a mobile device isn't always easy or efficient. iScanBrowser makes data work for you. Contact us today for a quick demo!

Works on iOS, Android, and MacOS (M1 and later CPUs)
Elegant mobile database solutions providing global visibility for compliance, collaboration, and growth.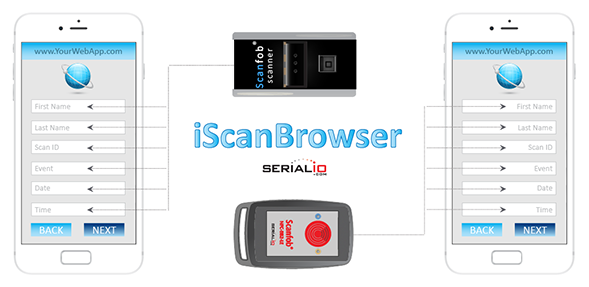 Fully Customizable - Your Name, Your Icon, Your App
Make It Your Own! With the whitelabel service of iScanBrowser, you can deploy the app fully configured and ready to run--with your branding! Settings and configurations are baked in so deployment and adoption couldn't be easier. Contact Serialio today for more details