Connect Scales Wirelessly With BlueSnap M6A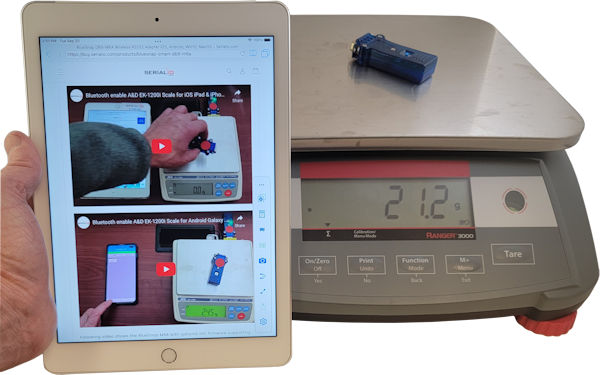 You use the BlueSnap M6A Wireless BLE dongle/adapter to connect  RS-232 scales  wirelessly enable hundreds of RS-232 scale models.
Find on this page, scale models known to work. Also note hundreds of models NOT found on this page also work.
Post scale weights on iPad-iPhone, Android, MacOS, Windows wirelessly without programming. Bluetooth enable your RS232 scale today.
How It Works Without Programming
Scales you find here have RS-232 serial port support and customers report them working with BlueSnap M6A wireless dongle. Use SerialMagic Keys iOS, Android, MacOS, Windows to post data to any app that can be typed into. Depending on your scale model, you might be able to use the optional BlueSnap HID firmware model to post data without software. WIth iScanBrowser, and Mobile Grid, you collect and process data from a scale into any native, web, or hybrid app. Also note, your 3rd party apps that implement serialio.com Serial Device Manager (SDM) also work with BlueSnap. You have a 3rd party app and want to support BlueSnap, contact serialio.com for details. 
Not Only For RS-232 Scales
Note: Serialio.com also supports other scale devices that have built-in BLE e.g. like the Tru-Test S3 Bluetooth Scale Head: S3 iOS, S3 Android.
The apps listed here also support laser measurers like DISTO E7100i and Bosch GLM & Blaze models.

Contact serialio.com to Post scale weights on iPad-iPhone Android MacOS Windows. Also tell us your needs for support on any device not listed.
If you know of an RS232 scale not on this list that works, please Contact us so this page can be updated. 
Partial List Of Scales Known To Work
Ohaus Ranger 3000 (use BlueSnap model DB9-M6A)
Ohaus Defender 3000 (use BlueSnap model DB9-M6A | Set scale & Bluesnap to 1200 baud when using constant weight)
Ohaus Scout Pro
Ohaus Scout SPX421
Ohaus Scout SJX 1502N/

Tor Ray LPC 40 L & 80 (known to work with command 'P' sent to get weight, note: send 'P' will NOT work See yACK BLE note below)
TORREY L-EQ SERIES (DB9 Male BlueSnap needs DB9 F/F Mini Gender Changer NULL MODEM adapter)
Avery Weigh-Tronix FLSC 05 Forklift Scale;
Avery Weigh-Tronix ZK840
Avery Weigh-Tronix 7815-75 (set for 9600-n, docs say has 7 data bits but works)
Avery Weigh-Tronix Model 640
Gram ZFoc-RS
Gram FC-5000

A&D EJ-4100 (use standard mini gender changer with DB9M, NOT null-modem)
A&D EJ-6100 (use standard mini gender changer with DB9M, NOT null-modem)
A&D EK-1200i (use standard mini gender changer with DB9M, NOT null-modem)
A&D GP-60k
Mettler Toledo XS4001S
Mettler Toledo PB3002-S
Ohaus NV2101
DigiStar TMR 4610 scale
VWR 2002B2T
Rinstrum R420
Gallagher 800, 810
UWE SAC-60C
Doran 4100XL (send W command to get weight from this scale)
Sartorius BCE5201I-1S
RUISHAN Counting and Weighing Scale with DB9F connector

Scales with non-ASCII start/stop format:
Adam CPWplus-15
Using yACK BLE app to send "P" (get weight command) to Tor Rey scale.