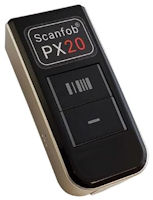 The Scanfob PX20 Bluetooth (BLE) wireless scanner is unmatched, scanning 2D and 1D scanning speed incredibly fast. Far faster and more accurate, and easier to use than any camera scanner. No matter what model iPad, iPhone, iPod Touch, Android Tablet, or Phone or Windows PC, the PX20 is faster. Your PX20 beats EVERY camera scanner on any device. You will wonder why you ever used a camera scanner.
Not Only Fasterest QR Code Scanner Compared With Any Mobile Device
Your PX20 is not just the best 2D barcode and QRCode scanner on the market. Fast charge time, long battery life, small keyfob size make your PX20 your optimal companion scanner. Your Scanfob brand PX-20 wireless Bluetooth scanner speeds up all your solutions. You have the best mobile wireless scanner for inventory counting & tracking, inspections, attendance management, emergency mustering, field service, healthcare, and more. Scans EVERY major 2D and 1D barcode symbology.
Works with All Your Devices
Connect your PX20 to iPad, iPad Pro, iPhone, iPod Touch, Android Tablet, Android Phone or Windows PC, and MacOS. Serialio.com has the best connectivity options in the world. Also ask about other solutions PX20 works with also works with stratus-io Time and Attendance. Why use slow camera scanner when beats EVERY camera scanner?
Your PX20 also has 'great memory'. Suppose you want to scan without a companion mobile device. You can scan thousands of barcodes into the memory of the PX20. When you're ready to download the barcode scans from memory, simply connect to the host device. You connect the scanner to the host via wireless connection or via USB cable. Additionally, you can use iScanBrowser app to connect to the PX20 and download scans. Using iScanBrowser Web Form Rules (WFR) posts scans directly to desired web form without tapping.